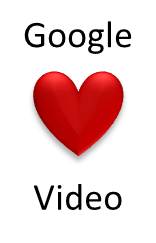 If you aren't number one on Google for your desired keyword, click on the website that IS ranked number one. Does that company have a video on their homepage? Do they have a video somewhere within their website? They very well may since Google's latest algorithm seems to have fallen hard for web video. In fact, Forrester Research has reported that websites with video are 50 times more likely to gain an organic first page ranking.
So why is web video Google's new love? Well, the number of sites with web video is far fewer than those with articles and other text. Google favors pages with unique content, so they see sites with web video as more unique than sites without.
SEO for Video
Of course, Google always plays hard-to-get. So, you must SEO your web video in order for Google to pay attention. Here are some quick tips.
Use Keywords
Place keywords in the videos' titles, tags, URL and file names. This will ensure your video is correctly categorized by Google.
Submit a Video Sitemap
Don't wait around for Google to find your videos. Create a video sitemap and submit it using Google Webmaster Tools. The search engine will take notice more quickly.
Use YouTube
Perhaps part of Google's infatuation with video is because Google owns YouTube. We have no evidence of that…just a passing thought. Anywho – don't forget to upload your videos to YouTube. Why? Google owns YouTube, it's the third largest search engine in the world, and YouTube videos are easy for people to share through social media.
Syndicate Your Content
Google has recently admitted they consider social authority in their algorithm. So, get added benefit from your video by syndicating it through social media. This will also help you develop inbound links. Use the usual social media websites – Facebook, Twitter, Digg, Stumble Upon, etc. – plus lesser known niche sites related to your industry. These sites will surround your videos with relevant content – which Google loves to see.
Focus on Interest, Not High Production Quality
Google doesn't care whether your videos are high quality production or not. They're impressed by the mere fact that you have it optimized on your site. Additionally, viewers don't care whether your videos are of high quality production. However, they do care whether your videos are interesting. So, get people interested in your videos and encourage sharing by providing helpful, humorous or emotionally touching content.
The Bottom Line
What's the lesson here? In short: tag your videos with keywords, submit a video sitemap and make your content interesting so people will want to share it via social media. You can check out Animoto.com for a free, easy way to create attractive web video.
Got any tips or comments on web video or other SEO services? Let's hear 'em! Feel free to comment below!